This course will cover radiation safety for facilities that use radioactive sealed sources. A radioactive sealed source is a metal capsule, maybe stainless steel or titanium, that contains radioactive material inside. They are designed so that the radiation can escape from the capsule to be used for industrial process control, cancer therapy, or other purposes, but the metal capsule keeps the radioactivity sealed up so that that's not a risk for contamination, accidental ingestion, or accidental inhalation.
Radioactive sealed sources are used in a lot of facilities. Medical centers use them for cancer therapy. Industrial facilities use them for process control to measure the thickness of steel, for example, or to measure the levels of various tanks. Geologic investigating firms, or mining companies, or petroleum companies use sealed sources to measure soil properties and the properties of rock to know where to drill, where to mine, or to know if the soil is firm enough to support a road or a building. All of these facilities and organizations use various types of sealed sources. Most of them are so low-activity that they are not harmful. Some of them can be dangerously radioactive.
In this course we will cover the way these sources are used, some of the regulatory requirements, and some of the health and safety requirements for working with them, as well as going over a little bit about emergency procedures in case you happen to lose a high-activity sealed source and you need to try and make it safe before it can be recovered.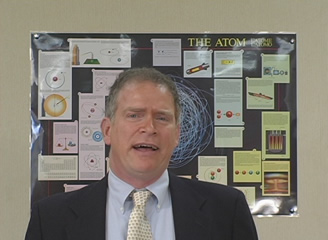 Course Instructor: Dr. P. Andrew Karam
Since 1981 I have worked primarily in areas related to radiation safety; as a radiation safety professional, a scientist and professor, a consultant, or an instructor. I am also a writer, with over 200 encyclopedia articles and several books in print, and an 8-book series (Controversies in Science, Facts on File) in the works - not to mention my scientific and technical writing (6 book chapters, a number of refereed papers, over 100 scientific presentations, several hundred encyclopedia articles, fact sheets, and over 100 technical articles and editorials in scientific and technical journals and newsletters).
For more information about multiple user purchases and applicable discounts please contact us directly at [email protected] or call us at 702-564-2798